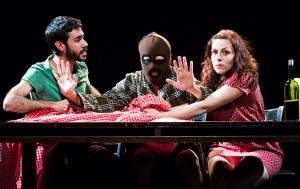 UK tour October 2014 – ATRESBANDES theatre company

Toured to mac Birmingham, The Lowry, Chapter Arts in Cardiff, Square Chapel Centre for the Arts in Halifax, The HUB at Slunglow in Leeds, Gulbenkian, Bedfordshire University, Camden People's Theatre Lighthouse in Poole and Artrix in Bromsgrove.
What happens when your fear comes round for dinner and your deepest, darkest thoughts refuse to lie low? Solfatara is a term for openings in volcanic terrain emitting hot, sulphurous gases. We are full of these geological phenomena, orifices that allow our insides to surface.
Witty, fast paced and hilarious, a young couple's frustrations explode with catastrophic honesty as a masked figure dares them to voice their true feelings. Performed in Spanish with English surtitles with a subversive life of their own.
First Prize & Audience Prize, BE Festival 2012, Birmingham
Best Direction & Best Actor, Skena Up Festival, Kosovo, 2012
Total Theatre Award Shortlisted, Edinburgh Fringe 2013
Nominated Best Studio Production, Manchester Theatre Awards 2014
"Uproariously rude and discomfiting. A smart script is performed with terrific timing." ★★★★ Donald Hutera, The Times
"Profound, humane and perturbing, a powerful piece from an emerging international company we should hear more from." ★★★★ The Scotsman