Some of the artists and companies I currently or have recently worked with:
Sleepwalk Collective are an award winning live art and experimental theatre company creating fragile, nocturnal performances between the UK and Spain. Formed in London in 2006 by iara Solano Arana (Spain), Malla Sofia Pessi (Finland) and Sammy Metcalfe (UK), the company currently lives and works in Vitoria-Gasteiz in the Spanish Basque Country. Shows include As the Flames Rose, We Danced to the Sirens, the Sirens (2010), Amusements (2012), Karaoke (2013), Domestica (2014), and Actress (2015) and Kourtney Kardashian (2019). To date the company have toured work to the UK, Spain, France, Italy, Portugal, Germany, Austria, Ireland, The Netherlands, Kosovo, Bosnia and Herzegovina, Cuba, Canada, Brazil, Mexico and Australia.
"This is serious experimental theatre – a piece that deserves to go down as a staple." Matt Truman, What's On Stage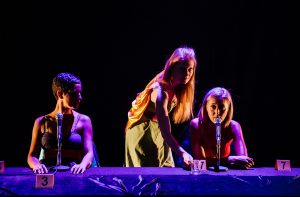 Paul O'Donnell is a solo theatre maker and performer who aims to expose the ordinary in a spectacular fashion.
​He is currently touring his first full length show We've Got Each Other, a full scale, West End Bon Jovi musical almost entirely imagined by its audience. In 2018, the show won BE Festival's Audience Prize and the Audience Prize and Best Performer Prize at FITT Festival in Tarragona, Spain.
Paul is an Associate Artist at Birmingham Repertory Theatre and with Theatre Absolute. He is also Founder and Producer of Coventry's Shoot Festival.
"Pure theatrical genius" North West End
"Never has an empty stage proved so thrilling" Reviewshub
​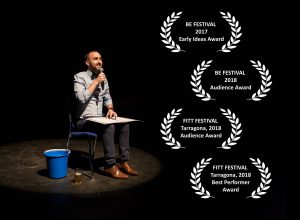 ATRESBANDES are a performance company based in Barcelona who are rapidly establishing a reputation as creators of sharp, perceptive work for international audiences, winning awards at theatre festivals across Europe. I work closely with their Spanish producer Núria Segovia Garrell on projects bridging Spain and the UK. In 2014, I produced the UK tour of their award winning piece Solfatara followed by a tour of Locus Amoenus in 2016 and ALL IN in 2017.
"An emerging international company we should hear more from." The Scotsman
"A trio of terrifyingly gifted performers." Total Theatre