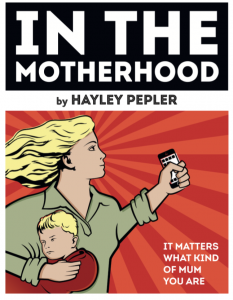 A sharply accurate and wickedly funny portrayal of the perils of modern parenting.
Touring 6th – 21st February 2017, including special parent and baby matinees.
"A thoroughly enjoyable night out!" Mumsnet
"Observational comedy at its finest" Bromsgrove Standard
In the Motherhood is set in a charming village where Nita and Bonnie run the PTA with brutal efficiency. Their enterprising and sometimes shocking approach to fundraising exploits the day to day struggles of being a mum, with highly lucrative results. Into this mix drops Jacs, a savvy city type who's looking to make an impression, but this PTA doesn't let just anyone in. Does Jacs have what it takes to assume her place in the parental pecking order or will feathers fly?
With three truthfully drawn characters and all too familiar scenarios, In the Motherhood has a positive message at its heart. Writer Hayley Pepler said, "It was really important to me to write this play because I want to celebrate mums. I want to draw attention to the incredible job women are doing every day to raise the next generation in the face of enormous competing pressures about how we do it."
The tour includes several special informal matinee performances where parents can their babies along too. As all the cast are mothers of young children, rehearsal times and tour schedules are being planned with parental responsibilities in mind. This will be especially welcome to writer Hayley, who gave birth to her third child shortly after the New Year and is planning to attend a matinee with the new arrival.
Director Tom Saunders is Youth Theatre Director at Birmingham Repertory Theatre's and is co-director of the REP's forthcoming production of To Sir, With Love. Hayley's script for The Shadow Of Ingestre Hall was nominated for Best Drama at the Royal Television Society (Midlands) Awards.
Originally staged at the Birmingham Rep, in November 2015, In the Motherhood will be touring in February 2017:

6th February – mac Birmingham
8th February – Lincoln Drill Hall
10th February – Artrix, Bromsgrove
11th February – The Place, Bedford
16th February – Arena Theatre, Wolverhampton
18th February – Albany Theatre, Coventry
21st February – The Hat Factory, Luton
As well as evening performances, Lincoln, Wolverhampton, Coventry and Luton dates will also have special matinee performances where parents with babies in arms are welcome. The tour features Lauren Crace as Jacs, Sarah Horner as Bonnie and Louise Madenborough as Nita.
Written by Hayley Pepler
Directed by Tom Saunders
Lighting design by Alex Boucher
Music by Gerry Smith