Little Soldier Productions
Nothing Happens (Twice) is a journey of discovery into the real meaning of success. Funny and anarchic, honest and touching, this deeply personal show asks if making theatre is such hard work, why do we keep on doing it, even when things go from bad to worse?
It's 2018 and Patricia and Mercè have three successful productions under their belts. But now, things have ground to a halt and after months of hard work trying to get their new show off the ground, they've hit rock bottom. In desperation, they accept a commercial contract to create a show promoting the Andalucían tourist board in the Westfield Shopping Centre, Stratford in London. Dressed as flamingos, they do their very best to entertain shoppers with the best that Andalucía can offer, despite neither of them having set foot in the region. After a deeply humiliating few days, they vow never to sink so low again.

Jump forward to 2020, the whole world has been turned upside down and Patricia and Mercè are once more wondering if they should carry on. They go back to one of the first conversations they had, when they dreamt of making a new version of Samuel Beckett's iconic play, Waiting for Godot. Unfortunately, the Beckett Estate famously imposes rigid restrictions on productions of the play, including their refusal to allow women to perform it. Their sure fire idea to hit the big time looked doomed. Not to be deterred, they set to work…


Nothing Happens (Twice) will be touring the UK from March 2022:
15th & 16th March – South Street Arts Centre, Reading – preview and premiére
17th March – Showroom, Chichester University
18th March – Proteus Creation Space, Basingstoke
23rd March – The Arts Centre, Edge Hill University, Ormskirk
24th March – Studio, Harrogate Theatre
26th March – Arena Theatre, Wolverhampton – live show and livestream
29th March – Drama Studio, University of Sheffield – BSL interpreted
31st March, 1st & 2nd April – Aldridge Studio, The Lowry, Salford
5th April – Burton Taylor Studio, Oxford Playhouse
7th April – Sherling Studio, Lighthouse, Poole
8th April – West End Centre, Aldershot
26th – 30th April – The Drum, Plymouth Theatre Royal
20th & 21st May – Chapter, Cardiff
Creative team
Performers: Mercè Ribot and Patricia Rodriguez
Director: Ursula Martínez
Dramaturg: Adam Brace
Designer: Verity Quinn
Composer: John Biddle
Lighting: Simon Bond
Production: Fergus Waldron and Mick Diver
Producer: Sarah-Jane Watkinson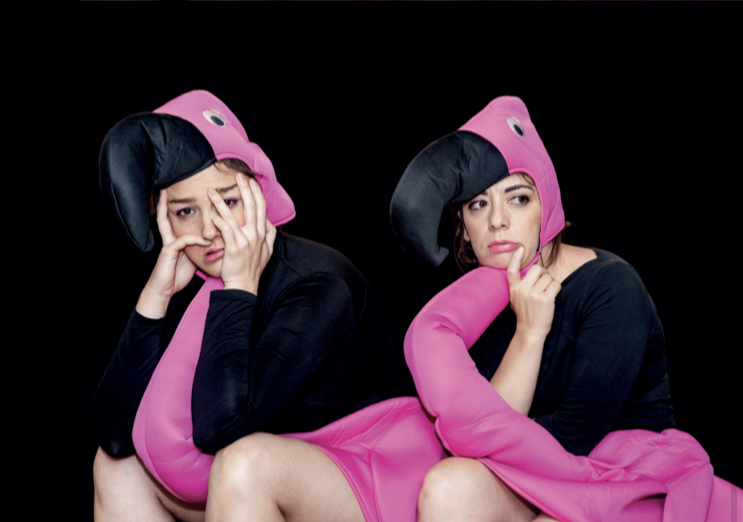 About Little Soldier
Led by award-winning Spanish theatre makers Patricia Rodriguez & Mercè Ribot, Little Soldier have been using physical comedy, devising and live music to create joyful, honest and irreverent theatre since 2010, mentored by acclaimed clown practitioner Aitor Basauri (Spymonkey). Previous shows include Journey to the Impossible, Derailed and The Ingenious Gentleman Don Quixote of La Mancha, which have toured extensively across the UK and internationally to USA, Mexico, Spain and Poland. As performers, they have collaborated with a range of artists and companies including Caroline Horton and Told By An Idiot.
"These clowns know exactly what they are doing." Lyn Gardner
"I spent the majority of my time at Little Soldier's show grinning like a happy idiot." Donald Hutera, EXEUNT MAGAZINE
www.littlesoldierproductions.co.uk
Nothing Happens (Twice) is supported by Arts Council England and Acción Cultural Española